by Kristine Froeba, Mid-City Messenger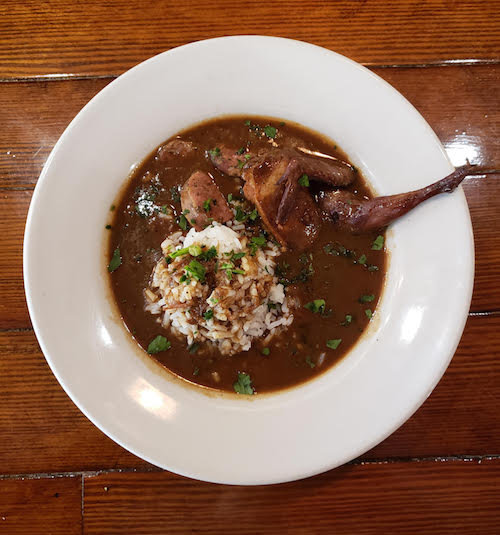 Chef Greg Sonnier and his pastry chef wife Mary, owners of Gabrielle Restaurant, announced today that they are closing their dining room due to business losses related to COVID-19. A takeout menu will still be available, and a special Mardi Gras catering menu is in the works.
"We are open for dining tonight through Saturday, then we will close for in-house dining," said Mary Sonnier, "but we will still offer takeout… I honestly don't know if we can survive this."
The last chance to experience indoor dining to sample Chef Sonnier's famous slow-roasted duck might be this weekend. "We can't afford to keep a staff," said Sonnier, "they can do better filing for unemployment."
The Sonniers constructed a special takeout window at the beginning of the pandemic in 2020. The restaurant offers online ordering through their website and the Toast App.
The restaurant is a family affair managed by their daughter, the restaurant's namesake, Gabrielle Prudhomme. This is the third time the two well-known chefs have fought to keep a New Orleans restaurant afloat. Hurricane Katrina took their first location, the original Gabrielle, which opened on Esplanade Avenue in the historic Faubourg St. John in 1992.
The restaurant opened to acclaimed reviews and gathered a loyal following and international recognition that lasted for over a decade. Their second location, Uptown, closed due to insurmountable zoning issues and local politics.
The newest iteration of the restaurant finally reopened on Orleans Avenue to a grateful public in 2017. It became an instant favorite with locals and critics. The dining room, housed in a renovated old New Orleans corner store, is not far from Dooky Chase, the famed restaurant of the Sonniers' departed mentor and close friend, Chef Leah Chase.
The Sonnier family released this statement this afternoon:
"To our loyal patrons: We have come to the difficult decision to once again close our
dining room for a minimum of 3 weeks. Rising COVID-19 cases and new Phase 1 restrictions have made operating our small restaurant almost impossible. We owe it to our staff and our city to play our part in keeping everyone safe.

We will honor all reservations made through Saturday, Jan 9th (following the Mayor's new Phase 1 restrictions). Working with a very small skeleton staff will continue to offer takeout Thurs-Sat. Please check in with us next week for a Carnival themed takeout menu. Thank you for your continued support, and we will see you on the other side.

Love, Mary, Greg and Gabie"
Gabrielle Restaurant is located at 2241 Orleans Ave. Takeout orders can be made via telephone (504-603-2344) and via the website and the Toast app.