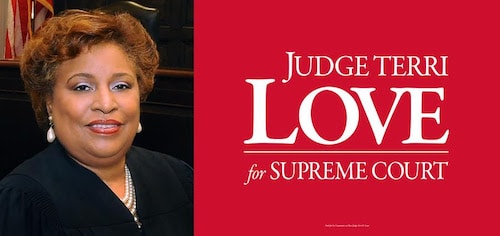 Dear Friend,
After 5 years as a Civil District Court Judge in Orleans Parish and 20 years as a Judge on the Louisiana Fourth Circuit Court of Appeal, I look forward to the honor and opportunity to serve our state as a member of our highest court, the Louisiana Supreme Court.
If you missed our official "virtual" announcement on the Committee to Elect Judge Terri Love Facebook page, click to watch the video below. Please share our exciting news!
In addition to our announcement, visit my campaign committee's website, judgeterrilove.com, to learn more about me and my campaign. I hope I can count on your support and vote.
Early voting is Oct. 20-27 and Election Day is November 3. Please consider registering to vote by mail (visit the Secretary of State's website here for more information).
Thank you and be well.
Sincerely,
Terri Love
Candidate, Justice, Louisiana Supreme Court, District 7
---
Judge Love has Twenty-five Years of Judicial Experience and Dedicated Public Service.
---
"As a jurist, I have and will continue to be guided by the fundamental objective of the legal system: equal justice under the law."
---
Judge Love has prepared her entire career for this position. She has served as a Judge Ad Hoc on the Orleans Parish Juvenile Court, a Trial Court Judge on the Orleans Parish Civil District Court and as a Judge of the Court of Appeal since 2000.
Judge Love has always been dedicated to the youth of our community. She is proud of her role as a mentor and supporter of scholarship programs.
A graduate of Tulane University School of Law in 1986, Judge Love went on to receive a Master of Laws (L.L.M.) at the University of Virginia School of Law in 2004.
She has been married to Ellria Love for over 30 years and they are the proud parents of Jasmine and Ellria.
Visit the Campaign Committee's Website
This message was paid for by The Committee to Elect Judge Terri Love.