This family owned business provides customers great food, music, and games. Throughout the year, Club Teede hosts pool tournaments, backyard barbecues, seafood boils, and themed parties. Their customers are like family and they make sure everyone has a great time.
Shopkeepers: Ms. Teede and daughter Bernice
Shop: Club Teede
Since 1993
What ignited the spark in you to start your business?
Bernice: My mother started Club Teede because she always wanted to run a business and have it to be family owned. After thinking about the type of business she'd like to start, she decided to open a bar and lounge. The business's name, Teede, is my mother's nickname that my brother gave to her. My brother passed away a couple years ago, and this club is in memory of him.
Ms. Teede: Yes, we had trouble finding a name so my son found one for us. We have been in business for a while. When we started it, we were taking a risk with the construction, and it has slowed things down some.
What makes New Orleans businesses so special?
Bernice: New Orleans businesses are very friendly. Most businesses provide food, which is a great part of the culture of New Orleans.
Ms. Teede: At Club Teede we have great food, like seafood and snacks. There have been many occasions where we offered free snacks. People like free! With the construction, we've had to pause our seafood nights but hope to start again when the construction is over.
Also, Club Teede is especially known for its pool tables and parties. We have pool teams who come here to play. The construction has slowed down some of our customers, but the events and activities that we provide keep us going.
Who are your customers?
Bernice: We tend to have an older crowd at Club Teede. While we attract people from the area, we have visitors who are not from the area come to Club Teede. People are attracted to our pool table, and it has become very well-known among our network of supporters.
If your shop was a cocktail, what would it be?
Ms. Teede: Our drink would be a smooth glass of Crown Royal. Most people drink that around here.
Describe your business in a few words.
Bernice: Club Teede is a friendly place to meet people, drink a nice cold beer, and watch the game. Our drinks are reasonable—you can get a beer and watch the game on a big screen TV. Along with television entertainment, we have video poker.
Ms. Teede: Here at Club Teede, we don't have people who get out of hand. We tell our customers to act like they are at church. We like having a friendly environment at Club Teede, so if it looks like something is about to start up, we stop it. When you come around here, you gotta know how to act!
How do you define success in your business?
Bernice: Success for our business is getting to a point in life where we will be able to pass down Club Teede to the next generation. In addition, success in our business is when we are able to address our customer's needs.
What are your current and upcoming goals for your business?
Ms. Teede: We hope that the business can take care of itself in the future. We are currently seeking out ways to get more customers and market ourselves. Secondly, we want to build a relationship with our customers so they are like our friends and family. Sometimes when we think about selling the business, we think twice because we cannot forget about the customers that have become close friends. Something else we would like to do is utilize the resources around us and connect with other businesses.
What's your favorite local biz in your area?
Bernice: We do not really have any favorite restaurants. There is this local sandwich shop in the area that we like to go to.
Ms.Teede: In addition, we check out local clubs in the area that we like to patronize. There are a lot of retail stores in the neighborhood, too, and we have been to many restaurants.
What advice would you give a budding business owner?
Bernice: I would tell a business owner to try new things, and if that does not work, try something else. At Club Teede, there is more to do than just drink. People can play games, eat great food, and watch television. A business owner should think about ways to keep their business interesting or eventful.
Ms.Teede: A business owner should consider having free food at their events. We have come to learn that people love free food, so we like to put on events and offer them some. A business owner should not be afraid to get creative. We use to have a lot of colored and theme-based parties that our customers really enjoyed. Road construction has been a big barrier for many New Orleans businesses, so coming up with new ways to grasp your customer's attention is always good.
Club Teede
2527 Gravier Street
New Orleans, LA 70119
(504) 821-9709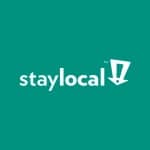 While drainage system improvements and road construction make "shopping local" a bit more challenging in the short term, the critical improvements mean our city will be safer and stronger for generations to come. We hope you are inspired and continue to shop small and shop local—even if it takes a little extra time!
The Shopkeeper Stories are brought to you by StayLocal, the Greater New Orleans independent business alliance, in partnership with NOLA Messenger. Learn about their work or become a member at www.staylocal.org or email info@staylocal.org.